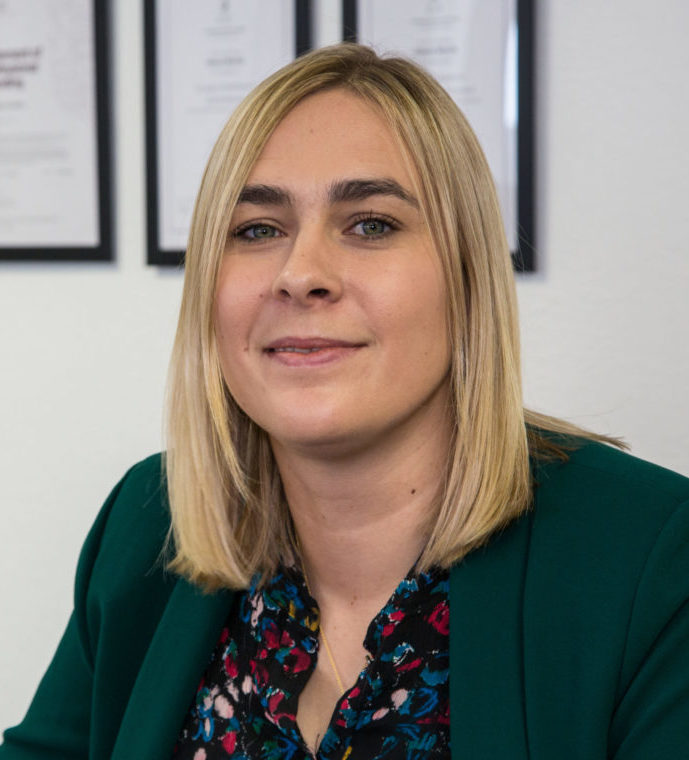 Helena Wardle
Chartered Financial Planner
I really value learning and I love the challenge of getting to grips with complex and technical concepts, so I studied to become a Chartered financial planner.
Professionally
Helena began working at Nationwide in 2006 and decided early on that she wanted to become a financial adviser. Helena qualified as a financial adviser in 2011 and has been helping support clients ever since.
Helena very much values learning and loves the challenge of getting to grips with complex and technical concepts, which is what lead her to become a Chartered Financial Planner. She took on a different challenge in 2018 and completed her MSc in Financial Planning. It was by far her most valuable learning experience; improving her objectivity, understanding of people, and her interest in academic reading and research.
As a self-confessed pensions geek, Helena specialises in helping people to plan for retirement and understand if they have enough to last. Her aim is to bring these complex financial planning areas to life for people in a way that they will understand.
For Helena, financial planning is about helping people to define what they want, decide on what they are prepared to compromise on (if they need to), and give them reassurance and a simple plan to follow.
The conversations Helena has with clients are often less about how much you have, and more about what do you want to achieve. It can sometimes mean having tough discussions around subjects people would rather avoid, but Helena is always honest and sensitive in her approach.
Helena loves the team spirit everyone has created at Smith & Wardle; working together, laughing together, and supporting each other. She would say there's a very special atmosphere in the office; everyone cares about both the work we do and the clients we work with.
Qualifications
Personally
Helena is married to one of her favourite humans and they have a very spoilt doggie called Oreo. They often refer to him as Riley and would love to swap lives with him.
In her spare time, Helena is a keen runner and a reluctant adventurer; by reluctant, she means her husband dreams up mad challenges and she stupidly agrees to go along! Thanks to him, Helena runs and has done the Marathon du Medoc, Comrades Ultra-Marathon and the London Marathon. They have also climbed Kilimanjaro along with Jon and his wife Catherine.
In the quieter moments, Helena loves spending time with her favourite people and can often be found in the garden on a sunny afternoon reading a good book. She also enjoys taking Oreo for walks – preferably near a pub!
Importantly
We recommend that you always verify credentials before doing business with any financial professional. Helena's credentials can be viewed below.
In the spotlight
On an ideal weekend, you can find me
Somewhere near a beach with David, walking Oreo or hosting a BBQ for my friends.
My favourite holiday destination is
Too many! I love exploring but equally love relaxing by a pool with a good book. I have loved something about most of the places I have been to.
My favourite song to play in the car is
I love good lyrics, so it depends on my mood. I have also recently discovered audiobooks!
The first album I bought was
Collective Soul - an American band that most people have never heard of!
If I could be any fictional character, I would be
Part Hermione Grainger, part Bridget Jones and part Elizabeth Bennett.
If I could turn any activity into an Olympic sport, I would win a medal in
I am overambitious with my time! I try my best not to, but this sometimes means I am late! Not my favourite trait.
When the dessert menu arrives, I'm looking for
Something interesting. I have a sweet tooth, but I rarely order pudding in a restaurant after a meal.
The three qualities that draw me to new people are
Honesty, what they care about and their stories. I genuinely love meeting new people and I am really lucky that this is such a big part of my day job.
My pet peeve is
Untidiness. I prefer order and unfortunately, I married someone who is the opposite! Nagging is a sport?
The best gift I've ever received is
I am a giver, so gifts are always meaningful. To me, special gifts are the small thoughtful ones. To anyone else they won't mean much but to me they mean the world.
The three people at my dream dinner party would be
JK Rowling, Michael McIntyre and David Attenborough.
The three small things that make my day better are
Fun and laughter, interesting conversations and making a difference to someone.
Your colleague describes you in three words as
Committed, caring and sensitive.
Meet our
clients
We care about helping our clients improve their lives and celebrate their success when they do. Here are some of their stories.
Smith & Wardle Financial Planning is a trading name of Smith & Wardle Financial Consultants LLP (OC398850). Registered in England and Wales, our registered office address is Suite B, Gloverside, 23-25 Bury Mead Road, Hitchen SG5 1RT.
We are authorised and regulated by the Financial Conduct Authority (FCA) under registration number 912090.
The content of this website is meant for information purposes only, and does not constitute advice. The value of investments can fall as well as rise, utilising investment products places capital at risk.
Click here to read our complaints policy.
Suite B, Gloverside
23-25 Bury Mead Road
Hitchin
Herts
SG5 1RT